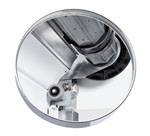 The entrance to your home offers a first impression to visitors, so finding the right style of front door for your property is crucial. Whether you're looking for something modern, or need a traditional door to maintain your current style, Bullet Garage Doors can help. To check out some of our previous work, and to see what our customers think of us, head over to our testimonials page. We've also got over 200 reviews on Checkatrade, if you'd like to hear from more people!
Our team operates across a wide area, serving customers throughout from a range of locations:
We offer a large range that is sure to contain what you're looking for. We stock a range of doors, both front and back, including Composite, Rockdoor, and Hormann and Bifolds. As well as being stylish, all of our products are installed to keep your property safe and secure. Our team are professional installers, so you can rest assured that your home is in safe hands when it comes to security. With so many different options to choose from, you'll be spoilt for choice. For a full range of the different types of door we have available, see our installations page.
Safe and Secure Back Doors
With some of the major brands offering back doors as well as front doors, you can ensure that these are in keeping with the rest of your home's style. We use products that are strong and sturdy, allowing them to withstand the elements and last for years to come. For more information on our products, and on how we can find the right solutions for your needs, get in touch with a member of our team today.
Get in touch
Again, if you need to get in touch with us then simply give us a call on 01582 932 025. Alternatively, head over to our contact page and fill out one of our online forms. We'll get back to you as soon as we can, and look forward to working with you!